In La Coubre forest, at Les Mathes – La Palmyre, come and discover our 5 hectares of tree climbing activities !
The most exciting one in the area.
-
A multitude of games and trails to enjoy in the tree-tops.
3 hours of pure sensations for the whole family from 3 yrs.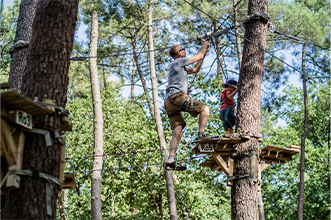 High-Wire
Forest Adventure
Conquer the forest using either the fully secure routes with a continuous lifeline or autonomous routes using carabiners ! Challenges and adventures await you.
Choice of 14 circuits are available for all levels.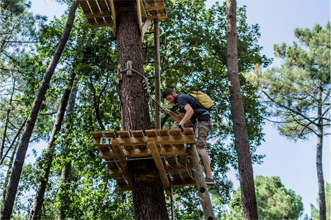 Crazy Jump
Starting from a 15m height platform, you will be able to launch yourself into a 4m freefall. An automatic stopping system takes you safely to the ground.
The jump has to be booked at the park reception (minimum age 12 years old) 5 euros per jump.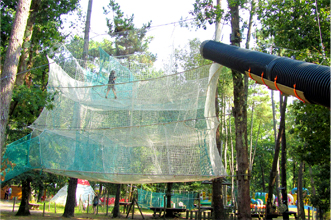 Fun Box
A giant 3 floor net cage that looks like a high maze, you must find your way through to a slide at the end.
Entry included in your park ticket
Accessible without a harness from 6 yrs.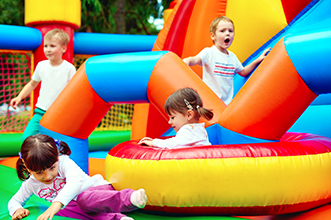 Kids Fun Area
Discover the P'tits Sioux village, from 3 to 11 yrs.
Come and have fun on trails without harnesses, a tyro-buoy, bouncy castle, a trampoline dome and the fun box (from 6yrs.)
Free entry for customers doing the tree climbing activity.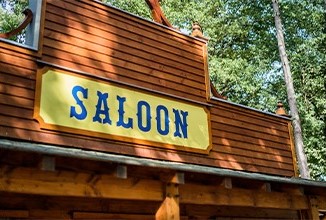 Le Saloon
The perfect place to take a break !
Enjoy some refreshments on our terrace and picnic area. Sodas, snacks and icecream available.
Toilet facilities available.